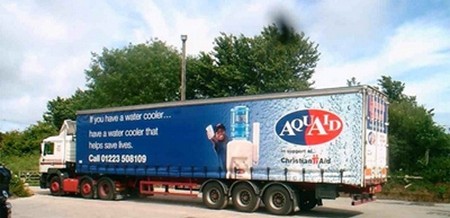 Choosing which water cooler company to go for is no longer about who is the cheapest. The importance of staying hydrated is so well known now, that many companies are placing higher importance on reputation, service and quality. It is extremely important that when deciding who to choose, you do some research and ensure that you will get exactly what you are paying for.
As one of the UK'S top water cooler companies, we at AquAid do not compromise when it comes to service and quality. We believe that making our customers our priority is what keeps them coming back for more. Our delivery network comprises of 27 depots across the country. This means we have over 160 delivery drivers at any time delivering water to your workplace or home. These delivery drivers all work from regional depots which ensure that they are never far away and in cases of emergencies, we can get there within 24 hours. Our teams are all dedicated to making sure that you and your staff are always hydrated.
We at AquAid believe that giving back to the community is a responsibility that forms a vital part of the success of our business. As a company, we are committed to acting responsibly and most importantly motivating others to make a difference. Sharing the responsibility in the world in which we all operate should be an integral part of your working day.  We believe that making a difference is complimentary to a commercial success. We are very proud of our long running association with Christian Aid, donating over 2.5 million pounds since our partnership with them began. For as little as £10, Christian Aid can provide a child with a lifetime's supply of clean, fresh water.
The Africa Trust was established as a way to bring sustainable solutions to poverty in Africa.  This includes establishing sustainable supplies of clean productive water and decent sanitation. Income generating projects are used to pay school fees, improve clinics and generate the funds needed to run orphanages. To date we have donated in excess of 1 million pounds and are encouraged by the success stories coming from individuals that are benefitting from the training that is being provided.
We at AquAid believe that our exceptional product together with our first class service and community responsibility is what has gotten us to where we are today. Paul Searle, Managing Director of AquAid said 'The sign of a great partnership is where business, charity and community all work together.'