Wall Mountain Outdoor Water Fountain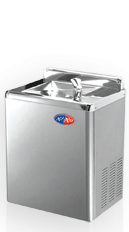 The AquAid Wall Mounted Water Fountain, manufactured from polished stainless steel, features a durable design including a smooth radius front for safety, specifically for use in schools and high usage areas.
This machine dispenses a high capacity of chilled drinking water on demand, keeping students cool and refreshed throughout the school day.
The water fountain features a durable push button bubbler; an adjustable installation height according to individual requirements as well as an optional swan's neck tap to fill individual water bottles or top up water glasses.
Best suited for installation in: Schools and High usage areas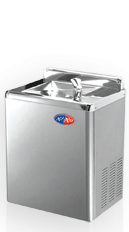 Water Supply – Mains
Dimensions – 432W x360D x 505H (mm)
Weight – 26kg
Cooling system – 190Watts (rated). 134a non-toxic, non-flammable refrigerant.
Temperature control – 80°C – 120°C
Tank capacity – 25ℓ per hour
Power supply – 220~240V/50Hz
Colour – Brushed Stainless steel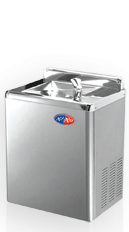 We provide the installation of your water dispenser in a location of your choice by EDWCA qualified and enhanced DBS checked engineers.
We aim to schedule both the installation of your water cooler or dispenser and any deliveries at your earliest convenience. We are generally able to deliver Mains Fed water coolers and dispensers within 3-4 days.
As per the WHA guidelines, we sanitise all mains-fed water dispensers every 6 months. The service will be carried out by our WHA accredited service technicians and should take no longer than 20 minutes of your time.
There's no need to call. For your peace of mind, machines are labelled with the date of their last sanitation and when the next one is due, we simply arrive to perform the service whenever it's due.
We also offer a full maintenance package which includes emergency call-outs in the event of a breakdown.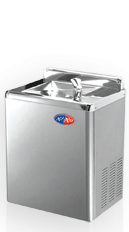 With the installation of each
Water Fountain
AquAid offer 100 free water bottles for students, plus 2 posters suitable for the students' age group.
Installing an Wall Mounted Water Fountain benefits not only everyone at your school, by supplying you with drinking water at a push of a button, but also those in need on other continents.
AquAid supports both the Africa Trust and Christian Aid , donating a portion of water, water cooler  and dispenser sales to these charities and in so doing continue to ensure those in need have potable water for life.