AquAid's Superior Hot Water Boilers
Welcome to AquAid, where we specialise in providing top-tier water boilers across the UK, designed to meet the diverse needs of our customers. Our hot water boiler dispensers are not just products; they are a blend of innovation, efficiency and reliability, crafted to enhance your daily water needs.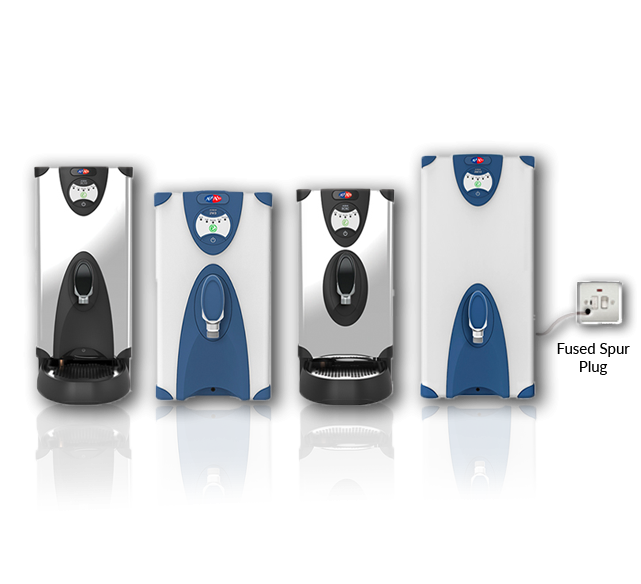 AquAid Water Boiler Range
At AquAid, we understand the importance of having instant access to hot drinking water, whether it's for a quick cup of tea in an office breakroom or for efficiently managing a busy catering event. This is why our range of water boilers is carefully engineered to cater to both domestic and commercial requirements, ensuring that every cup of hot water is delivered at the perfect temperature, swiftly and safely.
We at Snowberry Lane Clinic are very proud to be in partnership with AquAid.
The AquAid staff are very pleasant, professional and are a dream to work with.
All queries have always been handled efficiently and promptly.
It's also gratifying to work with a company so involved with helping others. We would highly recommend their service to anyone.
We picked your company for our water cooler because of the good work that you do …
Boiler for Hot Water: Perfect for UK Weather
AquAid's boiler hot water heaters are the ideal solution for the UK's unpredictable weather, providing a reliable source of piping hot drinking water throughout the year. These boilers excel with consistent delivery of hot water and maintaining a comfortable indoor environment, essential during the colder months. Their functionality is particularly suited to the UK climate, where the need for a cost-efficient constant supply of hot drinking water is a daily reality.
With energy saving functionality a priority, especially in a region with extensive heating needs, our boilers are designed to operate with maximum efficiency. This not only reduces energy consumption but also cuts down on energy costs, all without compromising on performance. User-friendly and easy to maintain, AquAid's boilers are a seamless addition to any setting, ensuring you remain warm and have a steady hot water supply, irrespective of the weather outside.
Tailored Catering Hot Water Boilers
In the dynamic world of catering, where the demand for hot water is both high and instantaneous, AquAid presents its bespoke range of catering hot water boilers, tailored to meet the unique needs of the catering industry. Understanding that each catering scenario varies, our boilers are designed with versatility and adaptability in mind. Whether it's for a bustling café, a busy restaurant, or large-scale catering events, our boilers ensure that there is always a sufficient supply of hot water on demand. This range not only excels in rapid heating and large capacity but also maintains the water at the perfect temperature, essential for various catering tasks from food preparation to cleaning. With AquAid's catering hot water boilers, caterers can focus on delivering exceptional service, knowing their hot water needs are comprehensively covered.
Streamlined Hot Water Systems for Schools and Offices
AquAid's range of hot water boilers is expertly tailored to meet the unique demands of schools and offices, ensuring a constant and reliable supply of hot water for various needs. In schools, these boilers are indispensable for food preparation, cleaning, and maintaining hygiene. Energy efficiency is also a key aspect, helping schools manage their resources effectively within budget constraints.
In offices, AquAid's boilers contribute significantly to a more productive and comfortable workplace. They offer quick and easy access to hot water, reducing the time employees spend waiting for kettles to boil, thus enhancing overall efficiency during breaks. Designed to be sleek and space-efficient, these boilers fit seamlessly into any office kitchen or break room. 
Frequently Asked Questions About Hot Water Boilers
What are the benefits of using a hot water boiler dispenser?
Hot water boiler dispensers provide instant access to hot water, making them more energy-efficient and convenient than traditional kettles. They are ideal for quick tea or coffee preparation in environments like offices or catering settings.
How do water boilers differ from standard water heaters?
Water boilers are designed to provide instant hot water on demand, whereas water heaters typically store heated water. Boilers are more efficient for frequent use, as seen in offices or catering environments.
Are the boilers equipped to reduce scale build-up?
All our boilers have scale-reduction built in, reducing the risk of the boiler being decommissioned due to scale build-up. To this end, we offer full maintenance packages where we pro-actively service and descale the boilers every six months to reduce down-time, as well as a range of filtration options for optimum taste.
Are hot water boilers suitable for catering businesses?
Absolutely, our catering hot water boilers are specifically designed to handle high demands, ensuring a consistent and rapid supply of hot water essential for catering operations.
What should I consider when choosing a water boiler for my office?
Consider the size of your office, the number of users, and the frequency of hot water usage. Our range includes various models to suit different office environments.
How does a water boiler contribute to energy efficiency in the UK?
Water boilers, especially in the UK, offer energy efficiency by reducing the time and power needed to heat water, which is particularly beneficial in frequent-use settings like offices or schools.
What makes a boiler for hot water a good choice for UK weather?
Given the UK's variable climate, a boiler for hot water ensures a constant hot water supply for both heating and personal use, adapting efficiently to weather changes.
Is installation of a hot water boiler dispenser complicated?
Not at all. Our hot water boiler dispensers are designed for easy installation, and our team provides full support to ensure a smooth setup process.
How does a catering hot water boiler differ from a regular model?
Catering hot water boilers are built to handle higher capacities and more frequent use, making them ideal for the demanding environment of a catering business.