The AquAid Fusion Desktop Bottle Fed Water Dispenser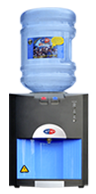 This modern and stylish water dispenser complements any workspace and has revolutionised the provision of drinking water for the workplace by offering both boiling and chilled water in the same unit.
The on-trend dark graphite colour of the AquAid Fusion makes it suitable for use in any area in the workplace, including your office, kitchen or factory;
This innovative machine is proving to be extremely popular in work spaces of up to 10-15 staff and offers a host of features: a proven energy consumption reduction of 25%; Spil Guard leak protection and the Hygiene Guard silver impregnated dispense tap reduces bacteria transfer and cross contamination.
The Fusion Desktop water cooler is also available as a Bottle Fed Free Standing and Mains Fed water cooler.
Best suited for installation in: Offices, Kitchens, Factory areas


18 ℓ per hour cold water supply.
Hygiene guard silver impregnated dispense tap reduces bacteria transfer.
Dispenses up to 7 Cups of boiling water.
Saves money on electricity compared to using kettles.
The Bottle Fed top includes Spil Guard leak protection.
The ECO Sensor reduces electricity usage by 25%, saving up to £40 per annum.
Available as Free Standing Bottle Fed and Mains Fed water dispenser.
Also available as a Cold-only version.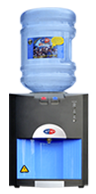 Water Supply – 18ℓ per hour cold water supply.
Dimensions – 463Hx340Wx340D (mm)
Weight – 15kg
Colour – Dark Graphite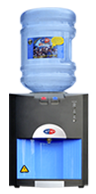 We aim to schedule both the installation of your water cooler or dispenser and any deliveries at your earliest convenience. We are generally able to deliver bottle-fed water dispensers and water coolers within 48 hours.
As per the WHA guidelines, we sanitise all bottle-fed water coolers and dispensers every 3 months. The service will be carried out by our WHA accredited service technicians and should take no longer than 20 minutes of your time.
There's no need to call to book a service. For your peace of mind, machines are labelled with the date of their last sanitation and when the next one is due, we simply arrive to perform the service whenever it's due.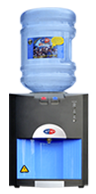 The installation of the
AquAid Fusion Bottle Fed
Water Dispenser doesn't just benefit you though. On average, every AquAid water cooler installed will provide
four
people with water every
year
.
AquAid supports both the Africa Trust and Christian Aid, donating a portion of the revenue from our water, water cooler and dispenser sales to these charities and in so doing continue to ensure those in need have potable water for life.
Calls may be recorded for training and monitoring purposes