AquAid AQ Max Desktop Bottle Fed Water Dispenser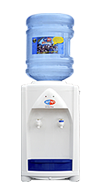 Even if your working environment is short on surface space, it doesn't mean you can't have the benefits of a bottled water dispenser.
Whatever your office size, installing the AquAid AQ Max means you can still enjoy refreshing spring water on demand.
This attractive and compact unit, available as either Hot & Cold or Cold water only, fits onto most desk, table and counter tops.
It includes all the essential features you would expect from a bottled water dispenser: such as an adjustable thermostat and silent running, in a compact and elegant design.
This combination of great features and space-saving design has made the AQ Max Desktop extremely popular in offices and kitchen areas.
The AquAid AQ Max is available as a Free Standing Bottle Fed Dispenser.
Best suited for installation in: Offices and kitchens.


Available as either Hot & Cold or Cold only.
Spring loaded taps with a safety hot tap.
Adjustable thermostat for accurate temperature control.
Function indicating LED display.
Simple to use and easy to maintain.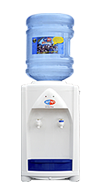 Model – SO-301H
Water Supply – 19ℓ bottle
Dimensions – 585Hx310Wx320D (mm)
Weight – 15kg
Faucet – Press/Push/Safety Type
Temperature control – By compressor
Tank capacity – 3.2 litre
Temperature control – By bi-metal sensor
Tank capacity – 2.2 litre
Power supply – 100, 110~220V/50, 60Hz
Colour – Old English White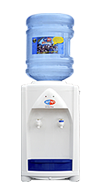 We aim to schedule both the installation of your water cooler or dispenser and any deliveries at your earliest convenience. We are generally able to deliver desktop bottle-fed water dispensers or coolers within 48 hours.
As per the WHA guidelines, we sanitise all bottle-fed water coolers every 3 months. The service will be carried out by our WHA accredited service technicians and should take no longer than 20 minutes of your time.
There's no need to call. For your peace of mind, machines are labelled with the date of their last sanitation and when the next one is due, we simply arrive to perform the service whenever it's due.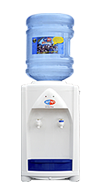 The installation of the
AquAid AQ Max
Desktop
Bottle Fed Water Dispenser doesn't just benefit you though. On average, every AquAid water cooler installed will provide
four
people with water every
year
.
AquAid supports both The Africa Trust and Christian Aid, donating a portion of the revenue from our water, water cooler  and dispenser sales to these charities and in so doing continue to ensure those in need have potable water for life.
Calls may be recorded for training and monitoring purposes