AquAid 400X Desktop Mains Fed Water Dispenser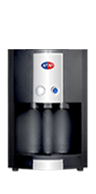 If you use a high volume of water, have limited counter space and yet still want a sophisticated looking water dispenser to suit your office décor, then the AquAid 400X Desktop Mains Fed Water Dispenser is the perfect solution.
The AquAid 400X dispenses spring quality water filtered through from your mains supply using a unique, high quality 1 micron water filtration system.
It offers a variety of features that include an adjustable thermostat for accurate temperature control; fitted Hygiene Guard anti-microbial taps and a noiseless circuit.
This combination of great features and space-saving design along with unlimited water supply has made this water dispenser extremely popular in offices and high profile areas in the work place.
The AquAid 400X is available as either a Hot & Cold water or Cold only water unit.
Best suited for installation in: Customer areas in the workplace, At Reception, At Meeting Areas or, In the Boardroom


Available ­as either Hot & Cold or Cold only.
High quality st­ainless steel tank.
Adjustable thermostat for accurate temperature control.
Fitted with Flood Guard flood prevention device.
Fitted with Hygiene Guard anti-microbial taps.
Electronic push-button taps for ultimate hygiene and convenience.
Also available as a Bottle Fed Free Standing, Desktop and Mains Fed Floor Standing unit.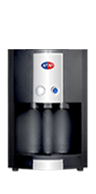 Water Supply – Mains Fed
Weight – 15kg
Dimensions -460Hx340Wx340D (mm)
Cooling system – 430Watts (rated)
Temperature control – Thermostatically controlled from 4°C -12°C
Optional Heating system – Thermostatically controlled to between 87°C and 92°C
Tank capacity – Stainless steel 2ℓ Tank
Power supply – 220V/50, 60Hz
Colour – Black only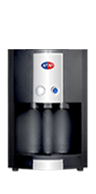 We aim to schedule both the installation of your water cooler or dispenser and any deliveries at your earliest convenience. We are generally able to deliver Mains Fed water coolers and dispensers within 3-4 days.
As per the EDWCA guidelines, we sanitise all mains-fed water dispensers every 6 months. The service will be carried out by our EDWCA accredited service technicians and should take no longer than 20 minutes of your time.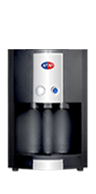 Installing an
AquAid 400X Desktop
Mains Fed Water Dispenser benefits not only you and your staff, by supplying you with drinking water at a push of a button, but also those in need on other continents.
AquAid supports both the Africa Trust and Christian Aid , donating a portion of the revenue from our water, water cooler  and dispenser sales to these charities and in so doing continue to ensure those in need have potable water for life.