AquAid Orio Mains Fed Floor Standing Dispenser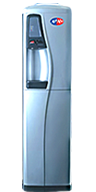 There are many ways to ensure that you are always correctly hydrated, but the best is to install a Mains Fed water dispenser in your office. This will ensure that you have a constant supply of fresh chilled or hot water.
The AquAid Orio Floor Standing water dispenser not only offers uninterrupted drinking water but has a stylish and sleek design with an elegant silver graphite finish; and is simple to use and easy to maintain.
Suitable for installation in: Customer areas in the workplace, At Reception, At Meeting Areas or, In the Boardroom


Elegant design and robust construction.
Available as Hot & Cold or Cold only.
Optional internal drainage system.
Push button dispenser.
Available as floor standing or counter top.
Simple to use and easy to maintain.
Cost-effective.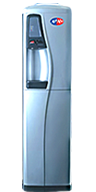 Water Supply – Mains Fed Water
Dimensions – 1070Hx325Wx370D(mm)
Weight – 22kg
Cooling system – Ice Bank Direct Chill – Stainless Steel Tank
Temperature control – Thermostatically controlled
Power supply – 220~240V, 50 Hz single phase, 13 amp fuse
Colour – Silver/Graphite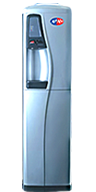 We aim to schedule both the installation of your water cooler or dispenser and any deliveries at your earliest convenience. We are generally able to deliver Mains Fed water coolers and dispensers within 3-4 days.
As per the EDWCA guidelines, we sanitise all mains-fed water dispensers every 6 months. The service will be carried out by our EDWCA accredited service technicians and should take no longer than 20 minutes of your time.
There's no need to call. For your peace of mind, machines are labelled with the date of their last sanitation and when the next one is due, we simply arrive to perform the service whenever it's due.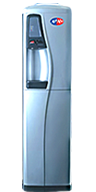 The installation of the
AquAid Orio
Mains Fed Water dispenser doesn't just benefit you though. On average, every AquAid water cooler installed will provide
four
people with water every
year
.
AquAid supports both the Africa Trust and Christian Aid, donating a portion of the revenue from our water, water cooler  and dispenser sales to these charities and in so doing continue to ensure those in need have potable water for life.