The AQ Max Desktop Fed Water Dispenser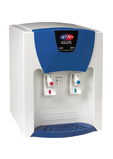 If you are short on space but want to enjoy the cost-saving benefits of a plumbed-in water dispenser, the AQ Max Desktop unit is the answer.
Compact and elegant, this water dispenser connects straight to your mains supply, using a unique 1 micron high quality drinking water filter that produces a chilled and refreshing taste equal to that of bottled water.
Despite its compact size, this machine is a real work horse and is well suited for installation in areas where there is a medium to high Cold & Hot Water usage or where people constantly refill their water bottles.
Among its other features, The AQ Max Desktop offers an option of anti-bacterial taps. These silver impregnated taps are excellent for killing bacteria, reducing the likelihood of cross contamination.
Best suited for installation in: Medium to large sized offices, Schools, Nursing Homes, Medium to high usage areas


Space saver.
World leading filtration.
Adjustable thermostat for accurate temperature control.
Available as Hot & Cold or Cold only.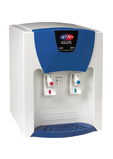 Water Supply – 3.2ℓ Cold Water Tank
Dimensions – 500Hx360Wx380D(mm)
Weight – 16kg
Filtration method – 1 micron high quality filter
Cooling system – 100Watts (rated)
Temperature control – By bi-metal
Optional Heating system – 2ℓ tank capacity
Rated Watts – 450Watts
Faucet type – Press / Push / Safety type
Power supply – 100,110~220V/50,60Hz
Colour – Old English White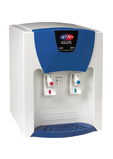 We aim to schedule both the installation of your water cooler or dispenser and any deliveries at your earliest convenience. We are generally able to deliver Mains Fed water coolers and dispensers within 3-4 days.
As per the WHA guidelines, we sanitise all mains-fed water dispensers every 6 months. The service will be carried out by our WHA accredited service technicians and should take no longer than 20 minutes of your time.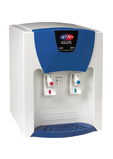 Installing an
AQ Max Desktop
 Mains Fed Water Dispenser benefits not only you and your staff, by supplying you with drinking water at a push of a button, but also those in need on other continents.
AquAid supports both the Africa Trust and Christian Aid , donating a portion of water, water cooler  and dispenser sales to these charities and in so doing continue to ensure those in need have potable water for life.
Calls may be recorded for training and monitoring purposes