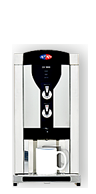 The AquAid Chiller Boiler was designed to offer large volumes of boiling and cold water from a single unit. With stylish design and easy-to-use functionality, it is a great alternative to expensive built-in taps or using both a water cooler and a kettle.
Chlorine and calcium is reduced by our premium filtration, ensuring a constant output of high quality boiling and cold water for all drinking water requirements.
Best suited for installation in: Medium to large sized offices, Schools, Medium to high usage areas


Constant supply of boiling and chilled water.
High quality filtration for both hot and cold water.
Durable and attractive stainless steel design.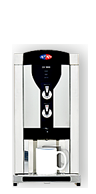 Dimensions Height (mm) 579 x Width (mm) 233 x Depth (mm) 503
Power loading (kW) 3
Heat-up time (mins) 12
Recovery Rate (ℓ) 0.5
Stand by Loss (kW/h) 0.1
Boiling Water Minimum Hourly Output (ℓ) 28
Boiling Water Rapid Draw-Off after initial heat up (cups) 20
Cold water constant performance (cups per hour) 60-80
Tap clearance to drip tray (mm) 150
Rear connection clearance (mm) 50
Depth excluding drip tray (mm) 345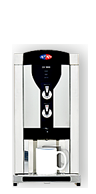 We aim to schedule both the installation of your chiller/boiler at your earliest convenience. The first step is to arrange a free, no obligation site survey to ensure installation is feasible at your chosen location. From there, installation will typically be done within 5 working days.
As per the EDWCA guidelines, we sanitise all boilers every 6 months. The service will be carried out by our EDWCA accredited service technicians and should take no longer than 20 minutes of your time.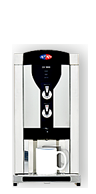 Installing an AquAid Chiller/Boiler benefits not only you and your staff, by supplying you with drinking water at a push of a button, but also those in need on other continents.
AquAid supports both the Africa Trust and Christian Aid , donating a portion of water, water cooler  and dispenser sales to these charities and in so doing continue to ensure those in need have potable water for life.
Calls may be recorded for training and monitoring purposes