It's time for a new way to think about Water!.


The AquAid H-Duo is stylish, affordable, comes in a range of colours to suit any decor and offers unlimited amounts of both boiling and chilled filtered water.
Designed specially for the UK market, the model sits on your work surface and fits neatly under all overhead kitchen and office cupboards. As part of the package AquAid offers the complete service. WE do the installation, WE change the filters and in that rare event anything should go wrong, WE offer a guaranteed next-working day service call out.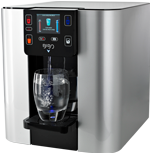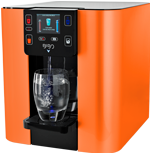 What colours does the AquAid H-Duo come in?
The AquAid H-Duo comes in 10 gorgeous colour options. Silver, cream, black, bright red, dark red, yellow, lime green, blue, purple or orange. Simply enlarge any of the stylish AquAid D-duo's on this page to see an enlarged version of the colour options.
Do I have to fill the AquAid H-Duo with water myself, like my coffee machine?F
No, the beauty of the AquAid H-Duo is that it's simply plumbed into your mains water supply. It automatically refills as you take water from it, so it is always ready to go, for both boiling and chilled water.
How much water will the AquAid H-duo produce?
The AquAid H-Duo will produce 7 Litres per hour of chilled water. It will also produce 15 Litres of hot water. We recommend the H-Duo for offices with up to 15 staff
How hot is the water when it is dispensed from the AquAid H-Duo?
With its unique 'superhot' button, the H-Duo can dispense water at temperatures as high as 98 ºC. This is the same temperature as a typical kettle dispenses water at.
How big is the AquAid H-Duo?
The AquAid H-Duo measures 32.5cm high, 30cm wide and 35cm deep. The dispensing spout is 23cm high.
How often do AquAid change the filters?
Our engineers will visit you every six months to change the appropriate filters, ensuring you always have clean, filtered water available.
Is the AquAid H-Duo difficult to operate?
The AquAid H-Duo has a state of the art touch screen panel. To dispense water, you simply choose whether you would like hot or cold water.
How do I clean it?
Simply wipe the AquAid H-Duo down with a damp cloth. The drip tray can be removed and cleaned separately.
It is energy efficient?
The AquAid H-Duo has an energy efficient, CFC-free cold water system and a powerful hot water system, yet both cost as little as 10-15p per day to run.