AquAid Water Boiler Range
Our water boiler range offers you an unlimited supply of filtered drinking water that combines both practicality and self service all within a stylish unit.
Compact Boiler that fits between work-tops and standard kitchen units.
Stylish and comes in a range of colours to suit and decor.
"We have been supplied by AquAid for a number of years with all routine servicing and repairs being dealt with swiftly and efficiently. With on-going annual donations being made to charity, this enabled our school to sponsor water wells in Africa which is very pleasing.
Stylish attractive Boiler that supplies hot and chilled water.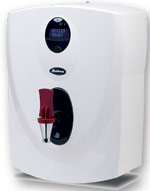 Compact yet powerful wall mounted water boiler with stainless steel boiler.
I would have no hesitation in recommending AquAid." ~Ahson Mohammed, Headteacher, Holly Lodge, West Midlands.
Stylish. compact and Reliable. Minimum hourly output of 28 litres

Upmarket, stainless steel design.