The AquAid Eco Large Fill Water Boiler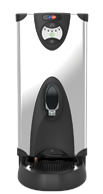 The
AquAid Eco LargeFlow
hot water dispenser provides a 10ℓ rapid draw off and 30ℓ per hour which makes this UK designed and made Water Boiler perfect for installation in any medium to large sized work space.
Among its many features the Eco LargeFlow also includes SteriTouch Anti-microbial protection in the tap and drip tray and integral scale-inhibitor technology that removes the need for chemical de-scalants.
The Eco LargeFlow also features a built-in ECO mode which reduces electricity consumption, thereby saving money and helping the environment. The AquAid Eco LargeFlow Water Boiler is a WRAS approved product.
Best suited for installation in:
Medium to large sized offices, Schools, Medium to high usage areas


UK designed and made
10ℓ rapid draw off (40 mugs), 30ℓ per hour
Energy saving Eco button
SteriTouch Anti-microbial protection in the tap and drip tray
Integral scale-inhibitor technology
Comes with matching drip tray
WRAS Approved Product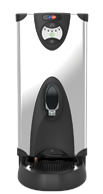 Dimensions  240Wx570Hx355D (mm) – 530mm including drip tray
Faucett Press/Push
Heating System 3kW (rated)
Tank Capacity 10ℓ rapid draw off/ 30ℓ per hour
Power Supply 240V
Dispense Height 175mm. Add 50mm to the depth to allow for the required fittings.
Colour Brushed stainless steel casing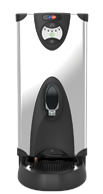 We aim to schedule both the installation of your water boiler at your earliest convenience. The first step is to arrange a free; no obligation site survey to ensure installation is feasible at your chosen location. From there, installation will typically be done within 5 working days.
As per the WHA guidelines, we sanitise all boilers every 6 months. The service will be carried out by our WHA accredited service technicians and should take no longer than 20 minutes of your time.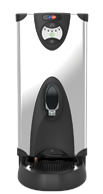 Installing an AquAid Boiler benefits not only you and your staff, by supplying you with drinking water at a push of a button, but also those in need on other continents.
AquAid supports both the Africa Trust and Christian Aid , donating a portion of water, water cooler  and dispenser sales to these charities and in so doing continue to ensure those in need have potable water for life.
Calls may be recorded for training and monitoring purposes