Water Coolers & Drinking Fountains for Schools
Dehydration is serious for all of us, but no more so than to our children. At the time a child start to feel thirsty it has already lost more than 20% of its ability to perform both physically and mentally. The direct result of this is not only a worsened academic performance but also lower concentration spans leading to increased classroom disruption.
An experiment in 'brain hydration' carried out at an Edinburgh primary school showed that the introduction of water bottles on pupils' desks led to a significant improvement in national test results over a 2 year period.Despite these important facts, two-thirds of children are still not getting enough drinking water, and a 5th of children drink no water at all, according to research conducted by the Department of Health and Food Standards Agency.­
For 8 years now AquAid has been the number one supplier of water coolers to schools in the UK. We recognise that a schools requirements are unique and that the solution also has to be unique. Therefore we have develop our unique High Capacity Point of Use Water Cooler with a storage capacity of more than 4 times the industry norm, allowing child after child after child to have a drink.
If your school require that little bit extra from your water dispenser we recommend the Niagara. Available as either a desktop or floor standing unit it offers unrivalled reliability, durability and capacity making it perfect for school canteens or other areas where that little bit extra is required.
We also supply a wide range of more traditional water fountainsfor both indoor and outdoor use. This includes the traditionalswan-neck system and dispensers with special disabled access.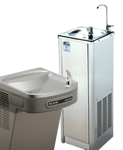 What our Customers Say
"The school is currently in the process of upgrading the water coolers as part of the continuing refurbishment programme.  The new AquAid units incorporate higher hygiene and safety standards to meet the demanding user requirements. Options include waste facilities, improved hygiene and filtration in an exceptional value for money solution."
George Hewitt-Henderson – Premise and Facilities Manager – Portsmouth High School GDST