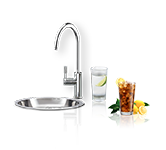 The Chill Tap is a stylish water dispensing tap with the chilling unit discreetly hidden underneath the worktop.
Environmentally friendly, with an adjustable thermostat and a variety of filtration options, the Chill Tap provides limitless and filtered chilled water at your desired temperature.
Best suited for installation in: Offices and staff rooms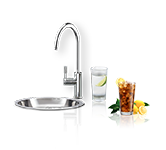 Mains fed water supply
6L stainless steel tank
10L/hourly output
Weight: (chilling unit) 12.5kg
Dimensions (chilling unit) 410mm (W), 210mm (D), 330mm (H)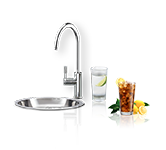 We aim to schedule the installation of your unit at your earliest convenience. The first step is to arrange a free no obligation site survey to ensure installation is feasible at your chosen location. From there, installation will typically be done within 5 working days.
As per the WHA guidelines, we sanitise all units every 6 months. The service will be carried out by our WHA accredited service technicians and should take no longer than 20 minutes of your time.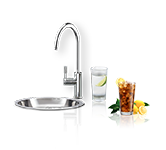 Installing an AquAid Chill Tap benefits not only you and your staff, but also disadvantaged communities in other countries.
AquAid supports both Christian Aid and the Africa Trust, donating a portion of revenue to each of these charities, which helps bring life-saving water to those in need.