AquAid Titan Desktop Mains Fed Water Dispenser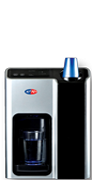 The AquAid Titan's elite design and sleek appearance belie its sturdy construction.
This machine offers a host of user friendly features including touch panel controls; an auto lit dispensing area and the integrated cup dispenser ensure that the AquAid Titan is compact enough to fit comfortably on most counter surfaces without using too much space.
The Titan is available as either a Hot & Cold or Cold only water dispenser.
Best suited for installation in: Small to medium offices, Kitchen areas


Sturdy construction with an elite design.
Auto-lit dispensing area.
Available as Hot & Cold or cold only.
Floor-standing model available.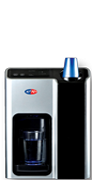 Water Supply – Mains Water
Dimensions – 475mm(H)x325mm(W)x380mm(D)
Cooling system – Stainless Steel Tank
Temperature control – By compressor
Tank capacity – 312ℓ/hourly output
Heating system – Stainless Steel Tank – Max 92°C
Colour – Silver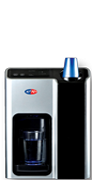 We aim to schedule both the installation of your water cooler or dispenser and any deliveries at your earliest convenience. We are generally able to deliver Mains Fed water coolers and dispensers within 3-4 days.
As per the EDWCA guidelines, we sanitise all mains-fed water dispensers every 6 months. The service will be carried out by our EDWCA accredited service technicians and should take no longer than 20 minutes of your time.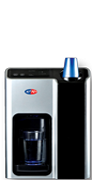 Installing an AquAid Titan Desktop Water Dispenser benefits not only you and your staff, by supplying you with drinking water at a push of a button, but also those in need on other continents.
AquAid supports both the Africa Trust and Christian Aid , donating a portion of the revenue generated from our water, water cooler  and dispenser sales to these charities and in so doing continue to ensure those in need have potable water for life.
The installation of the AquAid AQ Max Bottle Fed Water Cooler doesn't just benefit you though. On average, every AquAid water cooler installed will provide four people with water every year.
Calls may be recorded for training and monitoring purposes