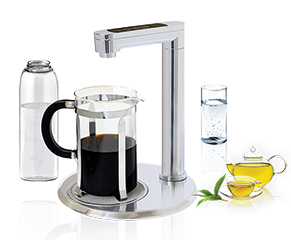 The Instant Tap is an elegant tap system which dispenses boiling and ambient water at the touch of a button, with the water boiler unit discreetly installed underneath the worktop.
Adaptable to include a chilling system as well, the Instant Tap is able to meet all your hot or cold water needs, providing limitless and filtered water always at the ready.
Best suited for installation in: Offices, board rooms and other low to medium use areas

Elegant tap system with touch control and hot water safety feature
Dispenses hot and ambient filtered water at the touch of a button
Compact and discreet hot water boiler installed under sinks and counters
Optional chilling system also available for a complete drinking water solution
7 Litres hot tank with an hourly output of up to 14 litres per hour above 90°C
Typical draw off 3.7 litres above 90°C
Optional drainage system or installation over sink
Dispense gap 240mm ideal for bottle filling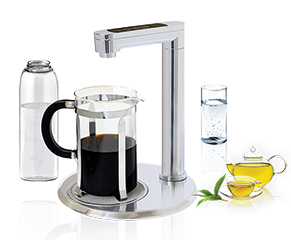 Fitting the touch pad requires a 35mm hole in the worktop to connect the tap to the under sink boiler
Mains fed water supply
Electric consumption: Heating Unit 2KW; Chilling Unit 120W
Power lead: Heating Unit 1M; Chilling Unit 2M
Outer material: Galvanized Steel plate with powder coating
Maximum temperature: 98°C
Dimensions: Heating Unit 170mm (W), 320mm (D) and 290mm (H); Chilling Unit 410mm (W), 210mm (D) and 330mm (H)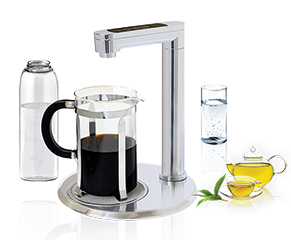 We aim to schedule the installation of your unit at your earliest convenience. The first step is to arrange a free no obligation site survey to ensure installation is feasible at your chosen location. From there, installation will typically be done within 5 working days.
As per the WHA guidelines, we sanitise all units every 6 months. The service will be carried out by our WHA accredited service technicians and should take no longer than 20 minutes of your time.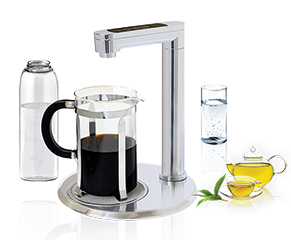 Installing an Chill Tap benefits not only you and your staff, but also disadvantaged communities in other countries.
AquAid supports both Christian Aid and the Africa Trust, donating a portion of revenue to each of these charities, which helps bring life-saving water to those in need.