To avoid any confusion, the title refers to islands around the island of Britain and Ireland and Scotland and not to the island of Britain itself. Yes?
Picture the scene – summer holidays many, many summers ago. An avid bookworm already at eight stands in a bookstore in town. Her parents have given her enough pocket money for a book – one book, mind you. She stares up at the colourful rows of books spines in front of her, spoilt for choice … she reads the title, 'Five on a Treasure Island' – and that was that; she was caught, completely. Islands forever after would be places of mystery, adventure and on occasion a little frightening.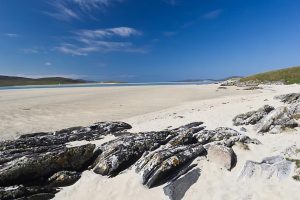 Why we're talking islands is because in a recent blog about what to do and where to go this summer, I made mention of the option to visit an island steeped in history.
I was referring to Flat Holm Island whose earliest known visitor was St. Cadoc. He made frequent visits to the island in the late 6th century for periods of tranquil meditation, especially during Lent. During the 18th century, the island's location made it an ideal base for smuggling. Although Flat Holm is in full view of both the Welsh and English coasts, customs authorities were powerless to act as they had no boat to take them to the island. According to tradition, a small cave in the east cliff at Flat Holm was used for the storage of contraband, mainly tea and brandy.
Then there's Eilean Donan (pictured above with castle) – a small tidal island where three lochs meet; Loch Duich, Loch Long and Loch Alsh, in the western Highlands of Scotland. A picturesque castle which lies just under a mile from the village of Dornie dominates the island. Since the castle's restoration in the early 20th century, a footbridge has connected the island to the mainland.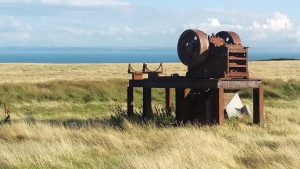 Eilean Donan is part of the Kintail National Scenic Area, one of 40 in Scotland. In 2001, the island had a recorded population of just one person. The name of the island which means simply 'island of Donnán', is named after Donnán of Eigg, a Celtic saint martyred in 617.
Eigg is one of the Small Isles, in the Scottish Inner Hebrides. It lies to the south of the Skye and to the north of the Ardnamurchan peninsula and was also called Eilean Nimban More – 'island of the powerful women' until the 16th century. Notably, Eigg generates virtually 100% of its electricity using renewable energy.
In case visiting these particular islands holds no appeal, never fear – there are more than 267 inhabited islands dotted in and around the United Kingdom:
In the United Kingdom: 124 and part of Ireland
In England: 19 and part of Great Britain
In Northern Ireland: 1 and part of Ireland
In Wales: 6 and part of Great Britain
In Scotland: 97 and part of Great Britain
Bailiwick of Guernsey: 6
Bailiwick of Jersey: 1
Republic of Ireland: 10 and part of Ireland
Isle of Man: 2
So, pack your sarmies, your water bottle and your sense of adventure and celebrate summer with a visit to one or many of these amazing islands, steeped in history and full of folklore and tales of derring-do!