This well-established AquAid branch opened its doors in 2002 and is now in its 16th year of operations.
AquAid Tyne & Wear is a family run company: recently, Ryan Dobson, son to owners Gordon (pictured above) & Emir Dobson, has joined the team and by all accounts is doing really well.
The Dobson's family values dovetail well with those of AquAid itself. These values include the consistent support through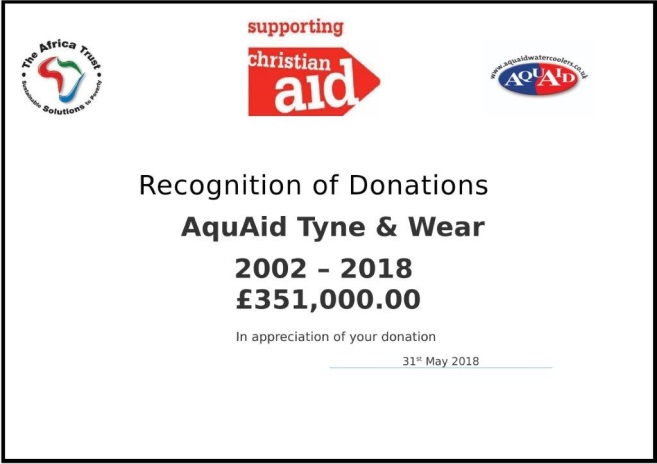 donations to sustainable charities, a practise integral to AquAid's operations since the company's inception in 1998.
Recently the branch received a certificate of contribution which is in recognition of a total donation figure in the amount of £351,000 – a significant achievement by all accounts.
But AquAid Tyne & Wear aren't just about helping those in need on far flung continents gain access to a better life.  Along with their support and donations to Christian Aid & the Africa Trust, they also want to contribute locally.
As we know, December is a busy time for everyone, after a hard year, people are all about enjoying themselves and celebrating, as they should.  That said, AquAid Tyne & Wear are also aware that this time of year also finds many people locally who are less fortunate and struggling quite a bit.
Ashley Harris, Media and Sales Manager at AquAid Tyne & Wear, takes up the story, "Its with this in mind that we, collectively within the company, are donating toys to children in our area who will not get these from their family at Christmas, this is via the local Salvation Army. In addition we are also helping homeless people in the North East via the local HOPE Charity with our donations of warm clothes, food, cushions, sleeping bags and anything that we think will make a difficult life easier during this cold period.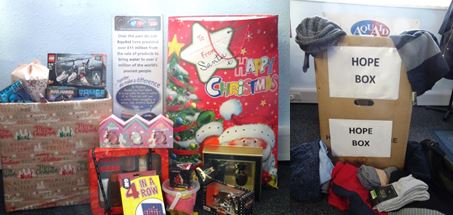 We have taken this a step further, throughout 2019  we will be putting together a monthly HOPE  box for the local HOPE Charity which will include food, blankets and clothing and in the summer we will include sun cream, to mention but a few items!
Everyone in the company is more than happy to get involved as sometimes you just do not know how lucky you are!
We are hoping once our customers are aware of what we are doing they might want to join us in the HOPE box."   
To find out more about how your custom translates into ongoing charity support or how to go about donating to either HOPE or the Salvation Army in the North East, contact one of the friendly team at AquAid Tyne & Wear – they'll be pleased to assist.