No stranger to hard work that brings results, AquAid South Coast have a substantial customer base that they have been servicing since 2000.
This is achieved, in part, by being staffed by a great team, headed up by Mike O' Dononghue, photographed below assisting with a delivery to one of AquAid South Coast's most recent and rather prestigious customers, St. Mary's Stadium, home to Southampton F.C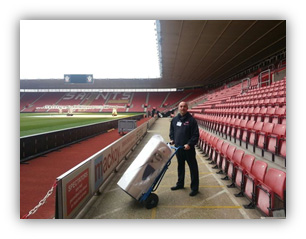 St Mary's Stadium is a UEFA 4-star rated stadium and with a capacity of 32 689, is the largest football stadium in the south of England, outside of London. Apart from hosting countless football matches since being opened in 2001, the stadium has also hosted other notable events such as film premieres for movies such as Casino Royale, as well as music concerts by Elton John in 2005 and Bon Jovi in 2006.
There was a tribute to Elvis Presley in August 2007 and Southampton fan Craig David played at St Mary's on 25 October 2007.
In the Northam Stand, the Saints Study Support Centre – a club run initiative to help school children outside of class – can be found, along with the offices of Southampton City Training, a quasi-council run organisation which helps young people get vocational training.
So, a very busy stadium, choc-a-block with very busy people means a lot of thirst and a definite need to keep all hydrated during their working days.
To this end, AquAid have installed 26 mains fed water coolers  at St Mary's Stadium, thereby ensuring that not only will all the busy people at St Mary's keep hydrated and productive but, that by their purchase, they will be contributing towards children in Third World countries being able to have access to clean, fresh drinking water through contributions to Christian Aid and The Africa Trust.
A win-win situation!