As part of our Corporate Social Responsibility (CSR) policy, we are very aware of the impact that the event production industry has on the environment and communities and as a member of this sector, we always look at ways in which we can give back.
One recent opportunity has been via AquAid, as through our contract in having water coolers, we have been donating monthly to The Africa Trust. In doing so, these donations have been used to build fresh drinking water wells in areas in Africa where it is needed most, like in schools and villages.
We are proud to announce that VisionEvents (Vision Events (UK) Ltd) will be installing an 'Elephant Pump' in Zimbabwe. This is a modified version of an age old Chinese rope pulley system and is built by the people of the area who are then taught how it works and how to repair it using local materials and parts. This is essential to ensure clean and safe water is part of their daily lives.
As a company, Africa is very close to our hearts as we have a number of team members who were brought up in South Africa (Debbie Wright, Logistics Manager; Karen Lonie, Event Administrator and Brandon Wheller, Event Production Technician), as well as our long suffering Operations Director, Ali Robertson, who was born and bred in Cameroon, West Africa!
We hope through various activities such as supporting The Africa Trust and projects like The Elephant Pump, we can bring opportunity and hope to people by helping to break the cycle of poverty.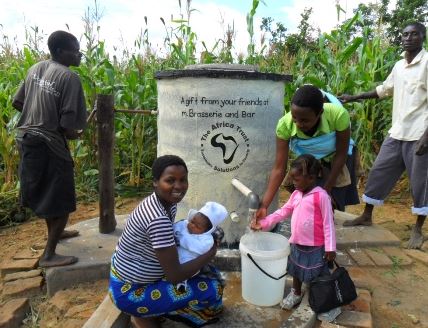 We fully support this initiative and are incredibly proud to be involved and have our company name on one of these much needed pumps. We will update our VisioNews with more photos once the pump is in place and in full working order! www.visionevents.co.uk/
For further details, please visit: www.aquaidwatercoolers.co.uk, who along with their sister company, Perfect Printer Cartridges, together have donated to date over £6 million to charity www.perfectprintercartridges.co.uk.
For further details on VisionEvents please visit our website: www.visionevents.co.uk or email us at projects@visionevents.co.uk