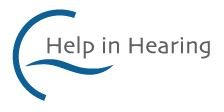 Help in Hearing, an independent, family-run business in Buckinghamshire, have assisted countless people with their hearing over the past 14 years.
They offer a variety of services from a free hearing test at their hearing clinics as well as a free online hearing test to many hearing-related issues.
They also believe in extending their values through to their Corporate Social Responsibility and through their contract with AquAid in having water coolers, have been donating monthly to The Africa Trust.
In doing so, these donations to The Africa Trust have been used to build fresh drinking water wells in areas in Africa where it is needed most, like in schools and villages.
As a result of these donations, Help in Hearing will be having its very own Elephant Pump built in Africa.
The Elephant Pump is a water well that is a modified version of an age-old Chinese rope pulley system and it is built with the assistance of the people of the area who are then taught how it works and how to repair it using local materials and parts.
This is essential to ensure clean and safe water is part of their daily lives.
We, at AquAid, are looking forward to being able to present Help in Hearing with photos of their very own well in the near future.