The Africa Trust was founded by AquAid to achieve sustainable solutions to poverty.
 Business Skills Training
The business skills training programme has been expanded to include Kenya, Tanzania, Mozambique and Malawi. Training is provided for people to start new businesses or improve and expand existing businesses. The Africa Trust is also providing loan capital to assist those people who have developed promising business models, but lack the funds to get started. Many small businesses were started in Uganda and Zimbabwe over the last year (following training by The Africa Trust) and some are now receiving further specialist advice along with peer review at monthly meetings. For example, people running a dairy cattle project in Zimbabwe, now benefit from visits by livestock specialists.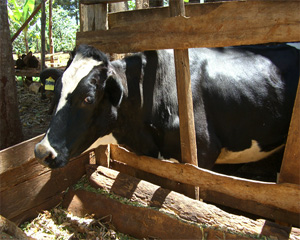 This helps to ensure that the cattle remain in good health so are able to provide large quantities of high quality milk. Soft cheese, sour milk, yoghurt and ice-cream are also being produced and a dairy has been established to pasteurize the milk, allowing for sale to the local city. These dairy products also require some specialist training to ensure quality and to market them effectively.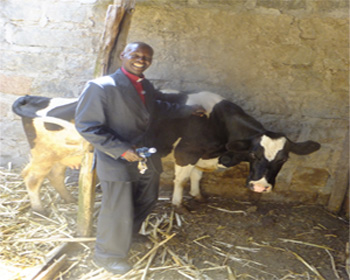 Bishop Samuel Ciira (with his one dairy cow) – He will be receiving business skills training from The Africa Trust later this month in Nakuru, Kenya
Clean Water for Life
During 2011, 367 new Elephant Pumps were installed in addition to work on some of the five thousand existing pumps, which are maintained by The Africa Trust in Zimbabwe. The Ilboru pipeline in Tanzania was extended to bring clean water to thousands more people near Arusha and work on a second pipeline is now being planned. The chief executive visited the Ilboru pipeline last month and was able to help the local community develop a village savings and loans scheme with money saved due to having a vastly cheaper supply of water.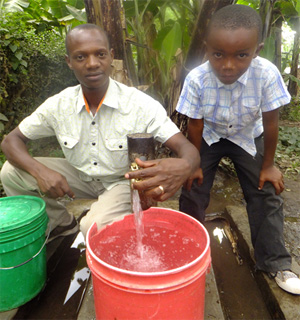 Johnston Barnaba, who works for The Africa Trust in Tanzania, opens one of the taps of the Ilboru Pipeline.
People living in some of the most remote Maasai communities in Tanzania and Kenya have to walk two days to find clean water, which they carry on donkeys in plastic containers and in calabashes. Many rural communities drink from open contaminated sources, which are also used by animals. Users of AquAid water coolers have helped millions in Africa gain access to sustainable supplies of clean drinking water, and this work continues every day.
 Work is being done to help people in remote rural areas make their own household water filters using clay and fine sawdust. The two ingredients are mixed, moulded and fired to produce earthenware pots, which slowly filter dirty water into a container below. A small quantity of colloidal silver solution can be painted onto the filter to improve effectiveness. Boiling of water is not always possible due to the scarcity of firewood, so these simple household filters, which cost less than two pounds to make, can be life-saving. People in Africa know that dirty water makes them sick, but many have no choice but to drink it.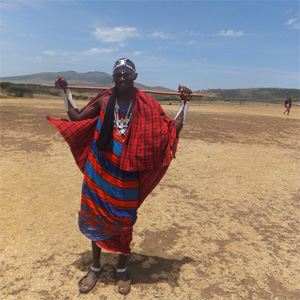 Ngeli lives two days walk from the nearest source of drinking water.
He made his shoes from pieces of an old car tyre.