There's something special about making people laugh, whether it's around the water cooler at the office, with our mates at the pub or in front of a room full of strangers.
One of our AquAid employees, Martin Huburn, does just that. During the day he does admin at our Birmingham Branch and by night tells gags and stories at comedy nights up and down the country.
"I've been involved with entertainment since I was about 4 years old, my sister and I both performed in several dance and gymnastic productions at the Old Rep theatre as kids.
In my teens, I got into American style wrestling and turned professional at 17. I moved to the USA when I was 22 and tried out for some of the bigger wrestling organisations. I didn't quite make it and returned home in 2007. After 17 years of abuse to the body – broken nose 5 times, 2 concussions and a broken finger nail, I decided enough was enough and retired from wrestling in 2009.
After leaving wrestling, I needed something to fill the void but I had no idea what I wanted to do, until October 2012. My mum bought me tickets to go and see John Bishop at Birmingham's NIA.
I laughed so hard, the show lasted about 2 hours and I was on a journey into John's perception of the world, I'd forgot about my though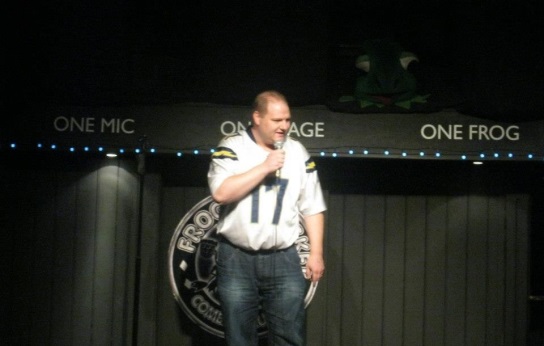 ts and feelings and felt so good.
Why does laughter make us feel better?  They say that laughter is good medicine, but why is it that laughing at people's misunderstandings, turmoil and observations can be so relieving? Is it the reassurance that sometimes other people see the world how we see it but we might be a little nervous saying it out loud because we may come across a bit, you know, odd.
This is when I decided, this is what I want to do, I want to have a go at standing up in front of a room full of people and attempt to make them laugh at the many surreal experiences I've had.
In March 2013, I booked myself in to do a 10 minute section at an Open Mic comedy night in the West Midlands.
In 1997, I went to Amsterdam and had a surreal experience and it's a story I'd told many times. I whittled it down to a 10 minute story and told it on stage.
It wasn't my best gig, but the audience laughed at the parts that were supposed to be laughed at, which is always good and I was hooked.
Since then I've done about 90+ stand up gigs, 8 of those at the Edinburgh festival, performed my debut stand up show "Who's Stolen my Dream" at the Nottingham Comedy festival and entered several competitions which I've placed 3rd, three times at well established amateur comedian competitions.
Over the last couple of years, I've realised how important it is for people to have hobbies and dreams. It's what defines our character. As a chocolate commercial once said, Work, rest and I likes Armadillo's (one for the kids).
We put a lot of emphasis on work and rest, but it's important to let our hair down once in a while."
Feel free to follow Martin on Twitter at @mhuburn