The Elephant Pump – how does it work?
What is it?
The Elephant Pump is a manual activated water pump based on a 2000 year-old Chinese design that the CEO of The Africa Trust, Ian Thorpe, adapted, to make it stronger and more durable.
This award winning Pump brings a cost effective, reliable and sustainable solution to one of Africa's biggest problems.
What does it do?
It is made and maintained using materials that are locally available in remote rural sub-Saharan African communities, which means that once the Pump has been built, local resources can be drawn upon for repairs and replacement parts.
It draws water up from a well at a high volume – approximately 1 litre per second. That means 60 litres per minute.
How does it work?
As the handle is turned, water is drawn up from a well of up to 30 meters in depth via a central pipe by washers attached to a rope. As the pump mechanism is fully enclosed to exclude sources of contamination, it yields a quality and quantity of water which exceeds WHO guidelines. The surplus water is used for livestock and irrigation of crops.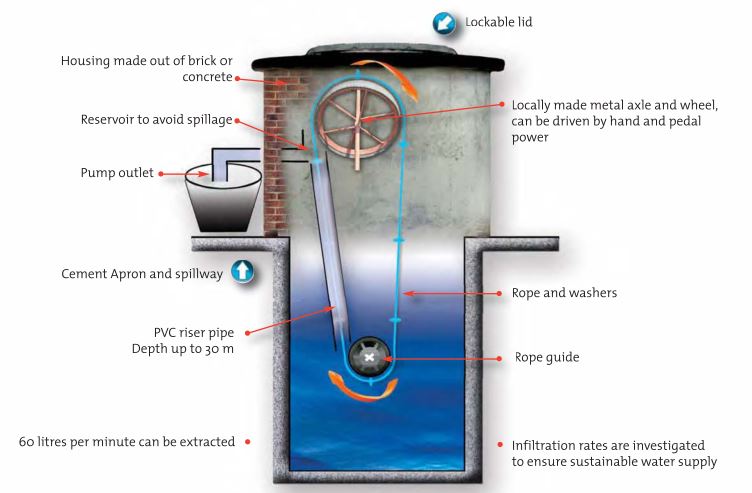 What are the benefits of the Pump?
The Elephant Pump has already contributed to bringing over 2 million people in rural Africa, a safe water source, at a price significantly less in comparison to comparable hand pumps.
The ancient methods of constructing the Pump ensure the materials can be locally sourced and built, further promoting employment within the local community.
Reliability – At any one time around 95% of existing Elephant Pumps are in operation which is 40% above the average for Africa.
Ease of Use – The Elephant Pump is safe and suitable for operation by children and the elderly.
High Volume – The Pump can provide 500 people with 20 litres per person, per day for domestic use.
The money saved from installing an Elephant Pump provides enough money to build an additional pump providing a further 500 people with water.
Where does AquAid fit in?
At AquAid, we continually strive to supply water coolers that are best suited to our customers' requirements thereby ensuring that our customers keep hydrated. At the same time, our water coolers also help provide safe drinking water to thousands of people every year by donating to sustainable charities; the Elephant Pumps in particular, being built as a direct result of monies donated to The Africa Trust.
How do you fit in?
For each purchase of an AquAid water cooler, a portion of that revenue is donated to Christian Aid and The Africa Trust.
We also have on-going paperless campaigns where selected customers are offered the opportunity to have an Elephant Pump with their name on it, built in a rural community, thereby ensuring a safe water supply to others less fortunate.
So when you use our services you are also benefiting many others in the developing world and helping to save lives.