Water Dispenser Range
Enjoy refreshing spring water, naturally filtered through the rocks of the beautiful, rural Purbeck hills.
Simple, white and elegant free standing bo­ttle water dispenser that only need 1sq foot of floor space.
Stylish attractive free standing Bottle fed Coolers that looks beautiful in any office.
"We picked your company for our watercooler because of the good work that you do …"
General Maintenance Company – Denise Pike -Director 
An elegantly designed and robust water cooler with push button dispensers.
Compact design with push button dispensers available as hot & cold or cold only.
"We at Snowberry Lane Clinic are very proud to be in partnership with AquAid. The AquAid staff are very pleasant, professional and are a dream to work with. All queries have always been handled efficiently and promptly. It's also gratifying to work with a company so involved with helping others. We would highly recommend their service to anyone."
 Colin Boyd, Snowberry Lane Clinic

On trend with its attractive and sleek design and integral dispenser.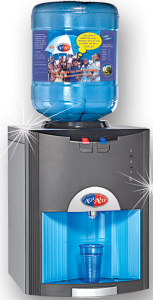 Modern and stylish water cooler that will complement any workspace.

Attractive Black design with integral space saving cup dispenser.
Even if you're really pushed for space, these desktop bottled water coolers will still fit right in.
Modern & Stylish, push buttons, proven reliability.
Try one of our bottled water coolers for 7 days, free of charge, with no obligation.
AquAid's range of bottled drinking water coolers are designed to fit into your environment. Our simple and attractive free standing bottled water coolers only require 1sq foot of space, while our desktop water dispenser can fit into even the tightest of spaces.
Whichever water cooler you choose, you'll enjoy our exclusive n­ext day delivery guarantee on all your bottled drinking water, so no matter what happens you'll never be left thirsty.
Choose a water cooler ­above or from the links on the right, or find out about our new water cooler trial – offering you the opportunity to try the benefits of refreshing bottled drinking water, free of charge.