When you type blogs in English English (not a typo), but your Office is set to American English (default for the globe it would seem) you very quickly develop a sense of humour or humor, with all the typo's in the different spellings e.g. organise vs. organize; and then with measurements – litres or liters vs. gallons, etcetera, etcetera.
So, imagine my delight when I was advised that the AquaAid Group were water winging their way across the Atlantic and opening up a bottleless water cooler company in the States. The United States of America that is. This meant that for once, when I typed a blog, my spell and grammar check would take seconds instead of minutes.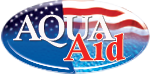 Even more amazing is that their flagship company HQ is in the City of Luuurve, San Francisco. We will be supplying bottles water coolers all around the San Francisco and (can it even get any better!) San José and Sacramento, all in the (uno momento as I remap my map brain to see states vs. counties) very fabulous (translate), rather marvelous State of Californ I A.  Yessiree Bob, we've arrived!
Before you get all worked up and think your fave blogista is in town, sadly, this is not the case. When I heard that AquaAid was opening up in the City of Love, I did suggest that perhaps I should be on the scouting party list, but I gathered from the deafening silence that this was unlikely to happen. That's OH KAY though, as I get to be involved in the manner that I'm best accustomed to – in cyberspace.
As you may have noticed from the different spelling in the logo above, AquAid in the States will be known as AquaAid, to avoid any confusion as to its pronunciation.
As Uffe Hansen, Group Manager of AquAid, says, "We really believe that our mix of high quality products, great service and charitable donations will be a winner in the US Market, as it has been in the UK. We are starting with one office in San Francisco, but hope to open a second in Los Angeles within 18 months",
More relevant information about us:
Water coolers are our business, and making the world a better place is our passion. That's what drives us to deliver exceptional products and service to all of our customers.
The AquaAid Group has been supplying bottleless water coolers since its foundation in 1998. Today, we supply an estimated 30,000 customers with 55,000 water coolers from 26 depots.
Our day to day focus is based on solid business principles:
High quality water coolers, from US manufacturers.
Environmentally friendly products, removing the need for deliveries of bottled water around the country.
Most advanced filtration in the bottleless water cooler industry.
Six-monthly servicing of water coolers, offering peace of mind that your water cooler will always dispense the highest quality water.
Next day call-outs in the rare event your water cooler develops a fault.
Local service. No call centers, no sub-contract engineers, just good honest service from a company you can trust.
So, there you have it – we've gone Stateside. If you're planning to relocate to the States, you can now 'take' AquAid or AquaAid, rather, with you. If you're already there, get in touch, we have a dynamic team happy to assist.