As you may have gathered by now, I like to think of myself as a bit of a card carrying clown-arounder, not taking 'stuff' too seriously and always looking for the pun, the sarckie (that's sarcasm to you) the silly, but ….. there are some days when all the malarking around is just supressed in an instant.
That would be today.
Here's why: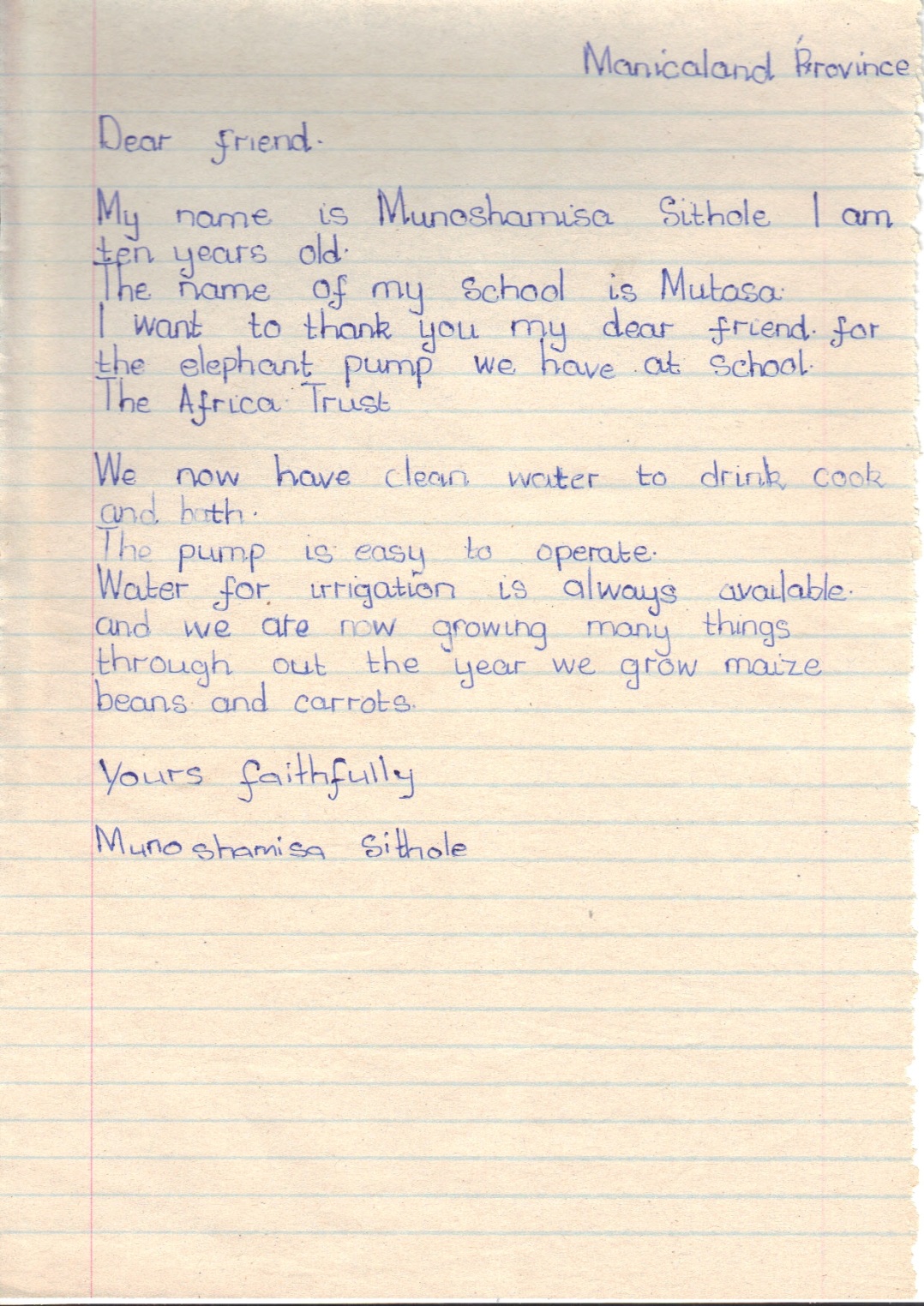 I have always been rather shine-my-lapels to work with a company that not only has a work ethic but it sticks to it and even more so that AquAid has an ethic towards sustainable charities and sticks to that and, and, and … but, when I read something like this, honestly, I put paid to a week of good hydration habits in 10 minutes flat. Leaking eyes, super attractive puffy eye surrounds, weird keening noises, you know the drill.
Now before I short circuit my keyboard from all the blubbing, let me elaborate about this magical water producing letter:
It is written by a 10 year pupil who attends a school in a rural region of Zimbabwe.
The Elephant Pump was built by a team and people in the local community.
The team will have been trained by The Africa Trust.
The Africa Trust is one of the charities that AquAid supports.
AquAid founded The Africa Trust together with Ian Thorpe, CEO of The Africa Trust and inventor of The Elephant Pump.
Ian Thorpe developed the pump after having worked as a teacher in remote African rural areas and seeing how communities had to walk for many miles each day just to get drinking water.
So, all of this eventually led to this rather remarkable letter and I'm c for seriously delighted to say that there are more letters like this because there are more wells that that have been built.
Fab-u-lous! *snif* Online casino slots | Business | Article Point- Casino Slots